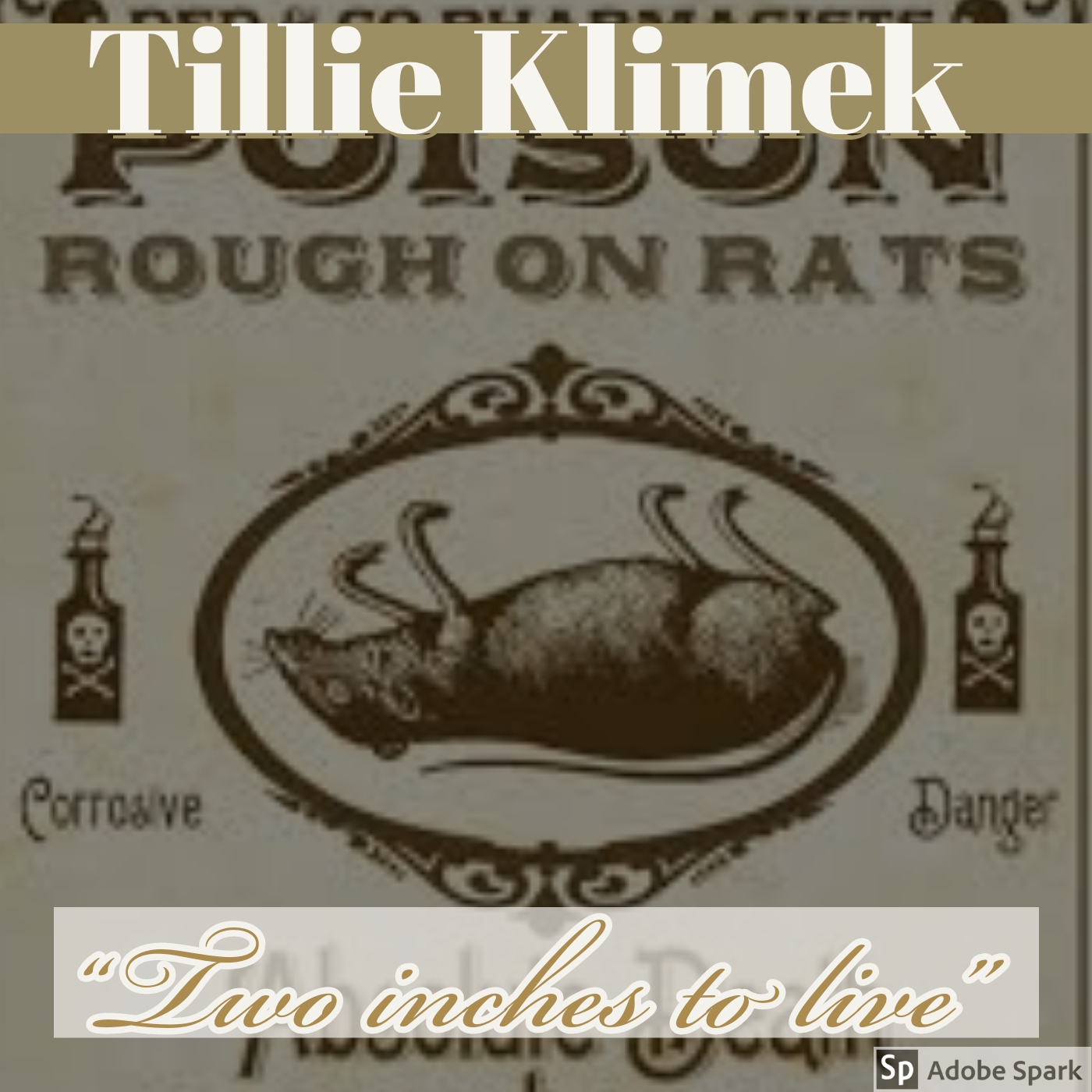 This week, we talk about serial marrier and murderer Tillie Klimek, a woman who just couldn't hold in her murderousness, and some men who just couldn't hold their arsenic. Tillie Klimek is a lesson in how not to act while your husband is dying, both to avoid suspicion and to be a decent human being. 
Plus! Super weird tornado tales, more life insurance shenanigans, and truly nonsensical measurement systems. 
We have a shiny new Patreon--come be a private dick! Or a gumshoe, or a flatfoot. If a one-time donation is more your style, you can Paypal us at oldtimeycrimey@gmail.com.
We'd love you forever--well,definitely longer than Tillie could manage to keep a husband alive--if you'd  give us a 5-star review! You can also follow us here on Podbean, Stitcher, Spotify, or wherever you get your podcasts. While you're at it, hit us up on our FB group, Twitter, Reddit, or Insta to talk Old Timey Crime.   
And remember, keep your twilight petting parties inside, lest the neighbors testify later.
______
Sources: 
C.J. March. "Poisonous Widow: Arsenic Murders in the Jazz Age (Dead True Crime series)
Mark Gribben. "Rough on Rats & Husbands." Malefactor's Register. https://malefactorsregister.com/wp/rough-on-rats-and-husbands/
Marek Kepa. "Meet The Whisperers: The Christian Folk Healers of Eastern Poland." Culture.PL. https://culture.pl/en/article/meet-the-whisperers-the-christian-folk-healers-of-eastern-poland
"Arsenic Toxicity Clinical Assessment." Agency for Toxic Substances and Disease Registry. https://www.atsdr.cdc.gov/csem/csem.asp?csem=1&po=12
"Spanish Flu." Wikipedia. https://en.wikipedia.org/wiki/Spanish_flu
"Tillie Klimek." Wikipedia. https://en.wikipedia.org/wiki/Tillie_Klimek
Syd Jones. "Polish Americans." Countries and Their Cultures. https://www.everyculture.com/multi/Pa-Sp/Polish-Americans.html
Sarah D. "Chicago Fought to Limit Flu's Spread During 1918 Epidemic." Chicago Public Library. https://www.chipublib.org/blogs/post/chicago-fought-to-limit-flus-spread-during-1918-epidemic/