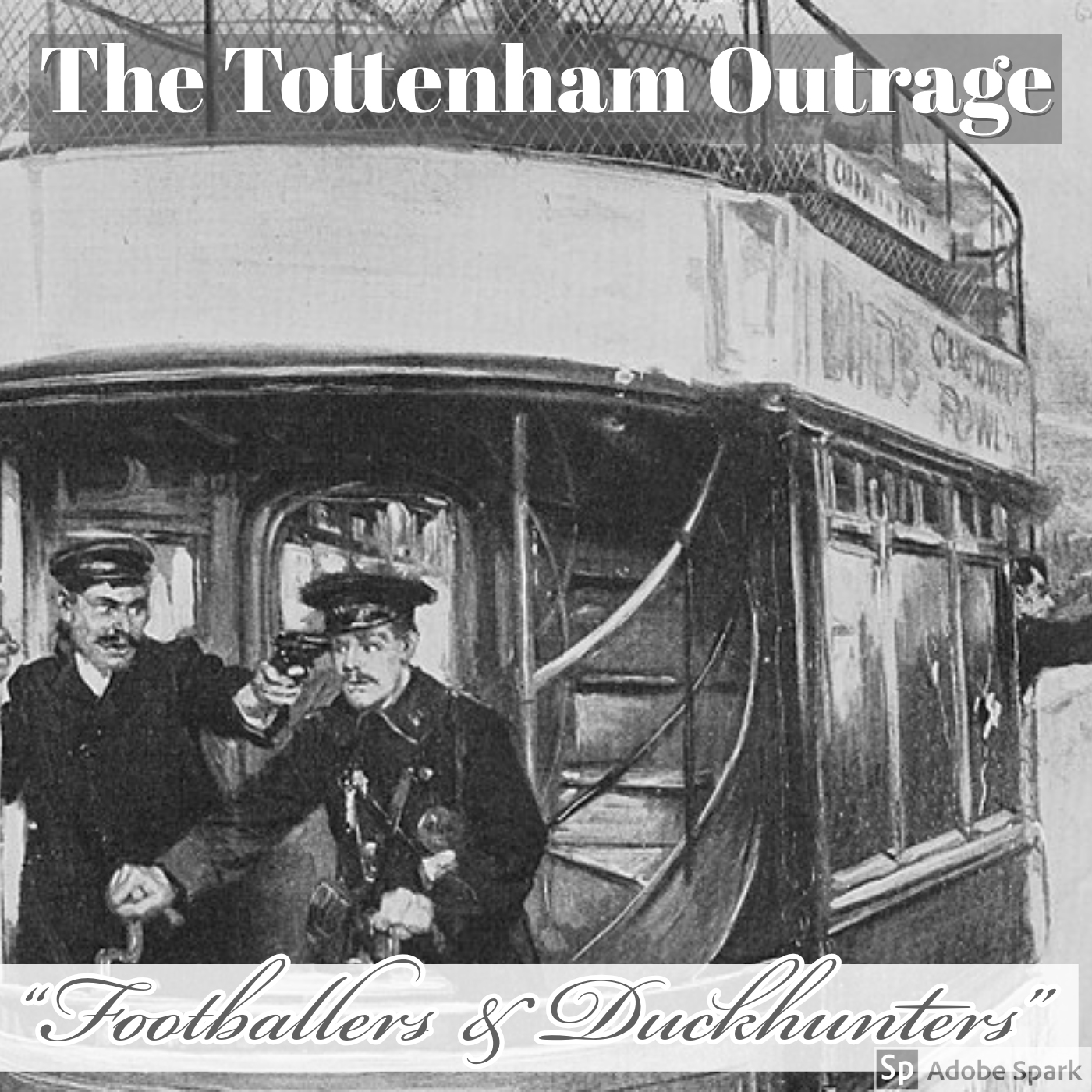 This week, Kristy and Scott wander back to England in 1909, when a rubber robbery turned into a police chase that's equal parts tragic and hilarious.
We've got cops borrowing guns from bystanders a tramjacking that turns into a tramchase, and some seriously inept criminals. Like, "commit a robbery within yelling distance of a police station" inept. All in all, this two hour chase would cover six miles, and the bandits would expend a shocking 400 rounds of ammunition. 
You'll be the best gumshoe ever if you leave us a 5-star review on iTunes. And if you'd like to control our fates, simply go to our Amazon wishlist and purchase a book for a future "Deep Dive" to pick a future episode topic. 
Don't forget to follow us here on Podbean, Stitcher, Spotify, or wherever you get your podcasts, and hit us up on our FB group or Twitter to talk Old Timey Crime. Thanks for listening, and make sure you turn on your Benny Hill music. 
____________________
Sources:
"1909 Tottenham Outrage Robbery." The Shady Old Lady's Guide to London. http://www.shadyoldlady.com/location.php?loc=441
"Aliens Act 1905." Wikipedia. https://en.wikipedia.org/wiki/Aliens_Act_1905
"An Outrage That Appalled a Nation." BBC News Magazine. http://news.bbc.co.uk/2/hi/uk_news/magazine/7844916.stm#blq-main
Belam, Martin. "The 'Tottenham Outrage' Centenary." http://www.currybet.net/cbet_blog/2009/01/the-tottenham-outrage-centenar.php
Fathers, David. "The World's Most Bizarre Heist Chase Happened in Tottenham." Londonist. https://londonist.com/london/tottenham-outrage-1909
"FN M1900." Wikipedia. https://en.wikipedia.org/wiki/FN_M1900
"Hijack." Etymonline.com. https://www.etymonline.com/word/hijack
Nye, Eric. "Pounds Sterling to Dollars: Historical Conversion of Currency." University of Wyoming. https://www.uwyo.edu/numimage/currency.htm
"The Tottenham Outrage—1909." Summerhill Road. http://tottenham-summerhillroad.com/tottenham_outrage1909.htm (map also available there)
"Tottenham Outrage." London Remembers. https://www.londonremembers.com/subjects/jacob-lepidus
"Tottenham Outrage." https://en.wikipedia.org/wiki/Tottenham_Outrage
"Webley Revolver." Wikipedia. https://en.wikipedia.org/wiki/Webley_Revolver
Weindling, Dick. "The Tottenham Outrage: the West Hamstead Connection." History of Kilburn and West Hampstead. http://kilburnwesthampstead.blogspot.com/2016/06/the-tottenham-outrage-west-hampstead_29.html