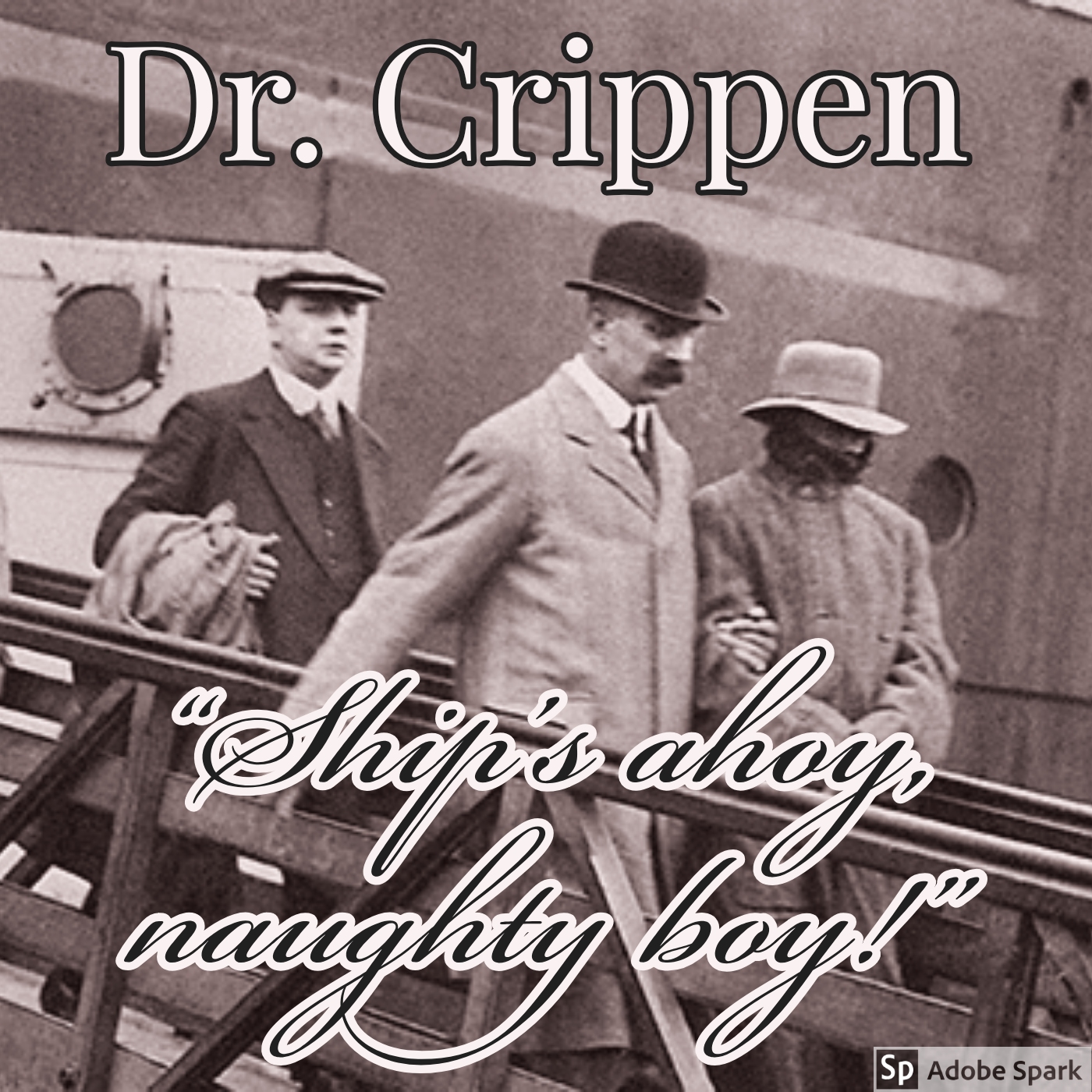 This week we jaunt off to England for the mysterious case of Dr. Hawley Harvey Crippen and his lovely wife Cora, whose disappearance introduces us to a lovely strongwoman with a fantabulous name, a transatlantic chase, and a torrid affair that resulted in some seriously questionable costume choices. 
Also! Leave us a 5-star review on iTunes with a limerick about the Dr. Crippen case, anything to beat the "Naughty boy, ship's ahoy!" song. Scott and Kristy will choose their top 3 favorites and put it to a public vote on our Facebook group. PG-13 only please!
Submit your review + limerick by May 16, 2019. Vote will be held from midnight May 17 to noon May 20, 2019, and the top vote getter wins an Old Timey Crimey t-shirt featuring our logo and your limerick! Continental U.S. only. 
________
Sources: 
"Dr. Crippen and wireless Telegraph." Old Police Cells Museum. https://www.oldpolicecellsmuseum.org.uk/content/learning/educational-programmes-and-tours/dr-chippen-wireless-telegraphy
"Dr Crippen Murder: Chamber of Horror." The Unredacted. https://theunredacted.com/dr-crippen-murder-chamber-of-horror/
"Finding Dr. Crippen." Murder Maps. 3DD Productions.
"Hawley Harvey Crippen." Wikipedia. https://en.wikipedia.org/wiki/Hawley_Harvey_Crippen
Eddleston, John J. "The Notorious Case of Dr Crippen." The History Press. https://www.thehistorypress.co.uk/articles/the-notorious-case-of-dr-crippen/
"Harvey Hawley Crippen." Encyclopedia Britannica. https://www.britannica.com/biography/Hawley-Harvey-Crippen
Hodgson, Martin. "100 Years On, DNA Casts Doubt on Crippen Case." https://www.theguardian.com/uk/2007/oct/17/ukcrime.science
James, P.D. "PD James on the Notorious MUrderer Dr. Crippen." The Telegraph. https://www.telegraph.co.uk/books/what-to-read/pd-james-on-notorious-murderer-dr-crippen/